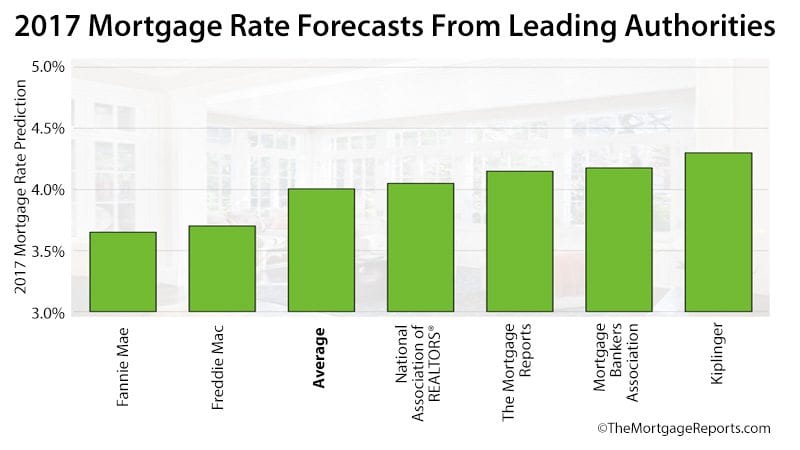 Collection Of 2017 Mortgage Rate Predictions
Everyone is asking where mortgage rates will be in 2017.
The historic U.S. election upended all previous predictions.
Mortgage rates skyrocketed overnight, leading to one of the worst weeks for mortgage rates in 45 years. Suddenly, the year of falling rates was a memory.
Now mortgage consumers wonder, "Will mortgage rates go higher in 2017?"
Hundreds of predictions are now circulating. Consumers are unsure which are the most accurate. In response, we gathered 2017 mortgage rate predictions from the most authoritative sources, averaging them for the most accurate forecast possible.
Here's what you might expect from mortgage rates next year.
Fannie Mae: Mortgage Rates Around 3.7% In 2017
Each month, mortgage rule-making agency Fannie Mae publishes its Economic and Housing Outlook. The four-part report compiles the most recent data to forecast the upcoming economic landscape — inflation, unemployment, and mortgage rates.
Published the day after the election, Fannie Mae is still calling for very low mortgage rates into 2017 and even 2018.
Thirty-year mortgage rates, the agency says, will be around 3.6% in the first half of 2017, rising only to 3.7% by year's end. Rates in 2018 will be just ten basis points (0.10%) higher than that.
Consider this prediction cautiously, though.
The agency published its report on November 9, just hours after election results were clear. And the report was certainly prepared over the weeks prior.
Mortgage rates had not yet reached their lightning-paced climb upward. Watch for updated predictions in Fannie Mae's December release
For now, here is Fannie Mae's prediction:
| | | |
| --- | --- | --- |
| 30-Year Fixed Rate |  2017  |  2018  |
| Q1 |  3.6 |  3.7 |
| Q2 |  3.6 |  3.8 |
| Q3 |  3.7 |  3.8 |
| Q4 |  3.7 |  3.8 |
Freddie Mac: Low Rates In 2017
Fannie Mae's counterpart, Freddie Mac, makes its own predictions about the future of mortgage rates.
But its predictions are strikingly similar to those of its sister agency.
As of October, Freddie Mac predicted 30-year fixed mortgage rates at 3.7% in 2017.
The prediction is already out of date, though. According to Freddie Mac's own weekly rate survey of more than 100 lenders, rates popped to 3.94% the week following the Trump election win.
Rates have already surpassed Freddie Mac's 2017 prediction.
Watch, then, for an updated forecast from the mortgage agency. In its May Insight and Outlook report, Freddie Mac called for 4.5% interest rates in 2017. After the Brexit vote, the agency lowered its projection.
| | |
| --- | --- |
| 30-Year Fixed Rate |  2017  |
|  Forecast |  3.7% |
Expect an upward revision as Freddie Mac digests post-election data.
The Mortgage Reports: 4% To Be The New Normal In 2017
Mortgage rates floated around 4% as 2016 started.
Then rates slid down steadily all year, bottoming out this summer when Britain voted to leave the European Union.
Mortgage rates remained below 3.5% for 16 weeks — the second-longest stretch of low rates in history.
It appeared 2017 would be another year of low rates. World economies were struggling, and the U.S. recovery was mild.
Pressure mounted on rates, though, as a series of positive economic news reports emerged in the weeks ahead of the election. Still, rates stayed low, awaiting the president-elect to be determined.
The election changed everything for mortgage rates. Investors weighed the result of a Trump presidency.
Government spending and tax cuts would put upward pressure on rates. And, investors saw the potential for an improving economy under the new president.
Current mortgage rates, then, should persist through the first half of 2017, and maybe even level off as the year progresses. Major market shocks are not likely in coming months.
Mortgage rates, as reported by Freddie Mac's weekly survey, could stay in the low 4% range the entire year. In fact, when we averaged six leading forecasts, the aggregate 2017 prediction was near 4% for a 30-year fixed mortgage — 4.0042% to be exact.
Rates in the mid-3s persisted throughout 2016, bucking all predictions. 2017 could see rates return to slightly higher, but still very affordable mortgage rates:
| | |
| --- | --- |
| 30-Year Fixed Rate |  2017  |
| Q1 |  4.0 |
| Q2 |  4.2 |
| Q3 |  4.1 |
| Q4 |  4.3 |
Some consumers could still land rates in the high 3s, if they opt for mortgage programs with lower rates.
FHA loans come with rates that are lower than those of conventional loans. And, they require only 3.5% down, and low mortgage insurance. The FHA streamline refinance reduces the cost of homeownership for homeowners with an FHA loan.
The VA streamline is similar, in that it is a VA-to-VA loan that drops the rate without an appraisal or income documentation. There are still many VA homeowners with mortgage rates higher than those available today.
VA home loans come with rates about 0.25% lower than those of conventional lending. Rates in the 3s should be available well in 2017.
A popular option is gaining steam: the USDA home loan. For less dense areas, this loan promotes homeownership in rural and suburban neighborhoods across the country. USDA loans increase affordability for today's buyer with its incredibly low rates.
Conventional low-downpayment loans such as HomeReady™ and Home Possible® could come with higher-than-average rates, as could conventional loans to lower-credit borrowers.
As a home buyer or refinance applicant, get a personalized quote from your lender. Average rates could be higher or lower than your rate.
And shopping around will almost certainly net you a lower rate than going with the first lender you talk to.
Rates for all programs will remain historically low in 2017, and it will still be a fantastic time to buy or refinance a home. Check your eligibility for various programs and lock in when you've found your best rate.
Kiplinger: 30-Year Fixed Rates In The Low 4s
Business and personal finance publisher Kiplinger calls for much higher rates than do Fannie Mae and Freddie Mac.
It says higher rates will likely persist throughout the Trump presidency for the following reasons:
Fed appointees who are more likely to raise the Federal Funds Rate
Higher government spending
Rising wages will push up inflation
But don't expect rates to rise too far too fast, says Kiplinger. The Fed is still buying up mortgage-backed securities (MBS) as loans in its current portfolio are paid off.
This will keep demand strong for MBS — the bonds that determine consumer mortgage rates.
This should temper what might be more dramatic interest rate increases.
Still, the publisher predicts 2017 mortgage rates about 30 basis points (0.30%) above today's levels.
| | |
| --- | --- |
| Loan Type |  2017  |
| 30-year fixed |  4.3 |
| 15-year fixed |  3.6 |
NAR: Mortgage Shoppers Can Afford Higher Rates
The National Association of REALTORS® (NAR) does not give a specific forecast, but it says current rates should continue into 2017.
The group also says the typical family should be able to afford these marginally higher rates.
It gives the example of a home buyer purchasing a home at the national median price of $235,000. The buyer would pay $50 more per month if rates climbed from September's 3.8% to the high end of its 2017 example rate of 4.2%.
A buyer in the western U.S., where median prices are around $350,000, will need to devote a larger share of disposable income to buy a home, says the trade group.
About 21% of a home buyer's income was needed to purchase a home in the West before the election. In 2017, it will creep to 22%.
Home buying won't be as cheap as it once was, but still very affordable.
| | |
| --- | --- |
| Loan Type |  2017  |
| Low estimate |  3.9 |
| High estimate |  4.2 |
MBA: Rates Near 5% By 2018
The nation's leading mortgage trade group, the Mortgage Bankers Association (MBA), forecasts rising rates in 2017.
Unemployment is down, wage growth (and therefore inflation) are on the rise, and consumers are spending more on goods and services.
These trends are great for the economy but bad for mortgage rates.
MBA says to expect a rate hike by the Federal Reserve in December 2016. This will add to upward pressure on mortgage rates.
The group expects home buying to strengthen, but fewer households will be able to find low enough rates to justify a refinance.
| | | |
| --- | --- | --- |
| 30-Year Fixed Rate |  2017  |  2018  |
| Q1 |  3.9 |  4.4 |
| Q2 |  4.1 |  4.6 |
| Q3 |  4.3 |  4.7 |
| Q4 |  4.4 |  4.8 |
Black Knight: 0.50% Higher Rate Equals $17,000 Increase In Home Price
Mortgage technology company Black Knight Financial Services demonstrates how rate increases translate to affordability.
| | |
| --- | --- |
|  Mortgage Rate Increase |  Equivalent Home Price Increase |
| 0.50% |  +$17,000 |
| 1.00% |  +$34,000 |
In its September Mortgage Monitor, Black Knight reported that homes would still be affordable even if mortgage rates increased by 1%.
In the pre-election era, it took 20% of the median income to purchase a median-priced home. A mortgage rate jump to 4.5% would increase the percentage of income to 23% — still low by historical standards.
2017 will still be a fantastic time to buy a home.
Federal Reserve: Expect 3 Rate Hikes By The End Of 2017
The Fed does not predict or control mortgage rates, but it can influence them.
In a heated economy, the Fed can hike its benchmark rate — the Federal Funds Rate — to slow inflation.
Recently, the Chicago Federal Reserve bank president stated he expects three such rate hikes by the end of 2017, according to MarketWatch.
Fed action could push mortgage rates upward. It's not so much the rate hikes, but the message they send.
A rate-raising Fed means the economy is improving, and inflation is a concern. Both trends are bad for mortgage rates.
Fortunately, the coming rate hikes are probably already "priced in" to today's mortgage rates. Don't expect big mortgage rate increases just because the Fed raises its rate.
What Are Today's Mortgage Rates?
Homes are still affordable, thanks to rates that are still historically very low. At one time, a 5% rate was considered "too good to be true."
Now, rates in the 4s are readily available for home buyers and refinancing households.
Get a mortgage rate quote, which requires no social security number to start, and no obligation to continue.