Don't Let Rising Mortgage Rates Price You Out Of The Home You Really Want
For a few years, homebuyers have enjoyed record-low interest rates. Today, however, rising mortgage rates concern many new buyers
According to Freddie Mac, in January 2016, the average interest rate for a 30-year fixed rate mortgage was 3.79 percent. This January, it was 4.19 percent.
How Increasing Rates Affect Your Loan Amount
Although there have been no significant climbs, even small gains can affect a homebuyer's plans.
Higher loan costs directly affect your principal and interest (P & I) payment, and how much home you can afford. The chart below shows how rising mortgage rates affect home affordability.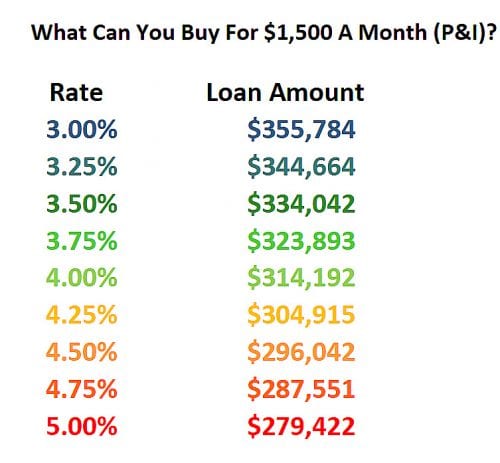 The good news is that this is not an insurmountable challenge. You have a few options to offset higher mortgage rates. Take a look at some of the ways you can still make your home buying dreams come true.
Increase Your Down Payment
You can offset rising mortgage rates with a higher down payment.
Suppose you don't want your monthly principal and interest payment to exceed $1,000. At last year's 3.79 percent rate, you could have borrowed almost $215,000.
At today's 4.19 percent rate, you'd get about $10,000 less. So you'd have to increase your down payment by that amount.
Work with your mortgage professional and/or financial advisor to discuss your down payment options. Depleting your emergency savings or retirement accounts is probably not your best move, but you might your withdraw from a Roth IRA or borrow against a 401(k).
There is an obvious benefit to paying more up front — less interest expense. In addition, higher down payments generally get you lower closing costs.
With a larger down payment, you also get discounted mortgage insurance. (Mortgage insurance is not required for loans with at least 20 percent down.)
Improve Credit Score
Your credit score is one of the major factors that determines your interest rate. The higher your FICO score is, the less risky you are to a potential lender.
Suppose that you're seeking a $200,000, 30-year fixed-rate mortgage. As of this writing, a score in the "excellent" range (above 760) could qualify you for a 3.966 percent rate. Your monthly P&I payment would be $951.
With a "poor" FICO score of 620, your interest rate would be 5.532 percent. This would push your monthly payment to $1,140.
Spending a few months improving your score can pay off. In some cases, adding a single point (for example, improving from 679 to 680) could move you to a higher tier. This would qualify you for a better interest rate and lower payment.
The best ways to improve credit score include:
Pay your bills on time (within 30 days of the due date).
Pay down balances. This improves your utilization (the amount you owe compared to your available credit). If you have a $1,000 credit line and owe $700, that's a 70 percent utilization rate. Paying $500 of that will get you down to 20 percent. You want to get this ratio under 30 percent. Ideally, you don't carry balances from month to month.
Check your credit report for errors and correct them. An FTC study found that about 20 percent of consumers who identified and corrected errors increased their credit score.
You can get your free reports from each of the three credit bureaus (Experian, Equifax, and Transunion) at AnnualCreditReport.com. You can also talk to your mortgage lender about "rapid rescore," a service that can expedite such corrections.
Get Help From Sellers
Most people expect to negotiate the price of the home. However, you may be better off asking the seller to pay discount points instead. This is called "buying down" your interest rate.
For a 30-year fixed-rate loan, it would cost about two percent of the loan amount to reduce the interest rate to last year's levels — a .40 percent drop. You can see how in the example below, you're actually better off paying two percent more for the property and getting the seller to buy down your rate by .4 percent.
| | | | | |
| --- | --- | --- | --- | --- |
| Price | Loan Amt | Rate | Pmt | Total Cost |
| $200,000 | $180,000 | 4.19% | $879 | $316,505 |
| $204,000 | $183,600 | 3.79% | $854 | $307,603 |
Shop for Your Loan
There are limits to the amount of help you can get from sellers, depending on the loan program. These range from three to six percent for primary residences.
One of the most effective ways to battle interest rate increases is to shop around for a better deal. Yet, as a Consumer Protection Finanical Bureau study found, 47 percent of home buyers don't bother. If they did, they'd realize that rates and terms vary between lenders.
RateWatch reported that during the week of January 26, 2017, US 30-year mortgage rates ranged between a high of 4.50 percent to a low of 3.99 percent. The average for that week was 4.16 percent.
What Are Today's Mortgage Rates?
Rising mortgage rates might be putting pressure on homebuyers, but by using the strategies above, you can reduce some of the extra costs and move forward with your home-buying plans.
Current mortgage rates are lower than they were immediately following the 2016 election.
The actual rate lenders offer you depends on your credit rating, loan amount and other factors. To get a relevant quote from a mortgage lender, you'll have to provide some information about yourself and the product you want.