New Construction: It's A Thing Again
Builders express more excitement about the new construction market than they have in years, especially after a market slump. Consumer confidence is so high from 75 months of jobs growth, there's a shortage of resale homes to buy.
So, should you consider buying in a new home development, or buying a custom-built house?
How To Avoid New Build Nightmares
The great thing about a newly-built home is it's all yours; you designed it just for you.
And if you learn what to watch out for, you can take advantage of the pros of a brand-new home and avoid the cons.
Here's what to know first about builders. Top contractors, especially those in the custom home business, may be highly-passionate about doing the best possible job for you. If something you want won't work well in real life, they'll tell you. They may also have creative and beautiful ideas you haven't considered. So choose someone with whom you communicate well.
On the other hand, for others, construction is "all business" for them, and it might be shady business. So you must also be "all business" yourself, and use these critical tips get the best outcome on your new home build.
Build A Budget First
Do your research about the types of homes, floor plans, neighborhoods, communities and amenities you want inside and outside. Set your maximum budget, including upgrades, and whatever you'll add after closing, like security systems.
Know the fixtures and features you want, including brand names, when possible. Pick upgrades with the greatest return on investment for your prospective market.
Understand the costs of new construction run beyond typical upgrades. Those include high-end appliances, landscaping and finished attics and basements. Decks, fences and window coverings are usually extra, too.
Custom Homes: Be Prepared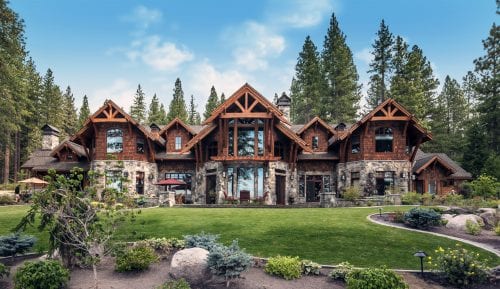 Most custom home construction mortgages add a cushion for cost overruns, because home building rarely comes in exactly on budget. Many contracts are set up on a "cost-plus" basis, which means you pay what the builder pays, plus some built-in percentage for profit.
Chris and Stacey Michael, owners of White Sierra Construction of Reno and Lake Tahoe, Nevada, build very high-end homes and often encounter change requests mid-stream. Designer Stacey warns that any changes you make once construction is underway will likely inflate your costs.
"Late changes affect all subcontractors who follow the current contractor to whom the change is directed," she explains. "The schedule is therefore extended by the time taken for the actual change as well as the potential of losing the next trades in line to another project for up to as long as a month or more."
Be absolutely sure you want that pink quartz kitchen before your contractor gets started and orders the materials.
And it's not just the "fun" stuff that costs money. Having the land cleared, graded and prepped for new utilities, including electric and water lines and septic tanks can be very expensive.
Make sure you know what all your costs will be, whether covered under your agreement with the builder or not.
Before you buy that land to be prepped, know you'll be responsible for any environmental cleanup required later. Build an environmental assessment into that budget.
Choose The Builder Before The Home
One of the best ways to protect yourself and your investment is choosing builders who are qualified, experienced, and reputable. Don't fall in love with a specific home plan only one builder offers.
Meet at least three contractors who build where and what you want, whether you want a custom or production home.
Chris Michael recommends that you do your homework before committing to a contractor. "Check with your State Contractor's Board, "he says, "Ask for client and 'trade' references. Look for online complaints and check with the BBB for a rating."
Deregulation Could Affect Water Sources
Currently, Congress introduced a bill to vacate water protection regulations. This is designed to cut builder costs, and possibly buyer costs, too. Keep in mind, however, that the Clean Water Rule protects about one third of Americans.
You'll want to double check the water source of any home you buy, new or old. Water problems can be very expensive and unhealthy.
Some Builders Struggling To Find Crews
Home builders face labor shortages, too, and feel constrained by hiring rules. However, untrained or inexperienced labor used to fill shortages may lead to shoddy workmanship and regulatory violations that inspectors don't catch.
That could lead to multiple problems for housing contractors. Those include foundation issues, poorly installed electrical and plumbing, toxic building sites or polluted nearby wetlands and waterways.
Their headaches become yours, and can lead to financial losses and health woes. Home buyers unaware of reduced or changed builder regulations are particularly vulnerable.
It's important for you to know how to stave off new construction problems.
Ask Developers The Right Questions
A tract or semi-custom development may only offer certain options and upgrades. These questions will help you determine if a community is right for you.
Which are the standard finishes and which are upgrades?
Do you offer any discounts on upgrades?
Do your long-term plans for the community include additional building? If so, how much and over what period?
How might HOA rules and regulations affect future changes to the house?
What home builder or structural warranties do you provide and are there special terms and conditions we should know about? What will our home warranty include? How long will each cover us?
Do you offer a zero defect guarantee or similar written promises?
Custom Home Agreements
Every custom home agreement is, like the product, unique. The elements you'll want to agree on are:
Scope of work: what will be done and the materials that will be used
Timing: when the work will be completed
Payment: what and when will be paid
Changes: How they will be dealt with, timing, cost, etc.
Warranty: what's guaranteed
Dispute resolution: how disagreements will be resolved between builder and client
Consider hiring a real estate attorney to review your contract before moving forward if you have any doubts about your understanding of any provision.
Choose The Right New Construction Financing
There are different types of financing, depending on whether you're financing a newly-constructed house in a development, a rebuild / rehabilitation (as long as there is already a foundation), or a complete custom home on a lot you already own or purchase.
Some builders work with "preferred" lenders, and try to push buyers to use these providers. With special incentives and other deals, sometimes builder-recommended financing is best.
However, you won't know unless you compare that lender's offer to those of several competing mortgage providers.
Developments
In the independent mortgage market, approvals are easier now. Lenders have lowered approval standards and minimum credit scores. Once again, low- and no-down payment loans, are available and self-employed buyers will find it easier, too.
Financing tract homes is nearly identical to financing a pre-built house. Programs include:
Fannie Mae and Freddie Mac conforming mortgages allow down payments as low as three percent for eligible buyers. To avoid mortgage insurance, the standard 20 percent down payment applies.
FHA loans require down payments as low as 3.5 percent and generally have more flexible underwriting guidelines.
"Non-prime" and other programs can help buyers with credit or income verification issues purchase property.
Get approved for your loan before you start building. And note that locking a loan for new construction because the home may not be finished before your rate lock expires.
Other Construction
For rehab / rebuilt homes, FHA's 203(k) program might be the best loan for you. It allows you to incorporate the cost of the lot and fixing or rebuilding the home into one loan.
For custom builds, most borrowers obtain what's called construction-to-permanent financing. The construction phase usually has an interest rate based on the Prime rate.
The construction funds can be used to pay off a lot loan, pay the contractor in stages as the home is built, and cover the interest as it accrues. That's so you don't have to make monthly payments on the construction loan while also paying the loan or rent where you're living.
Once the construction phase completes, the loan converts into a permanent loan at the rate and term agreed upon by the lender and client.
Look For New Construction Defects On Your Own
You should do this throughout the process, during construction site visits. Keep communication open with builders. That way you can get answers about your new home build whenever necessary, especially with custom houses.
If you see any potential defects, ask questions and get them resolved immediately. Little problems now become big ones later.
Look for defects before you get inspections so you can ask the builder, your real estate agent or inspectors about fixes. Take notes as you walk around the exterior and interior of the home and look for the following:
Check The Exterior
Window and door sealing or loose installations; windows should open as local code requires.
Patio or deck, and concrete surfacing issues like loose stones, railings or cracks in walking surfaces and at deck and the wall intersection.
Stucco siding cracks larger than hairline, especially at corners of windows and doors; flaking or "spalling" surface indicating improper application; gaps between stucco and windows, doors, hose bibs, pipes, ducts, and electrical fixtures indicating water intrusion.
Wood sidings showing substantial board waviness of the boards, ends and edges of the boards swollen from moisture intrusion after first raid.
Wood trim around doors, windows, and other locations looking for opened joints or developing cracks.
Concrete sidewalks, driveways, garage floors, or retaining walls cracks indicating improperly prepared soils or installation of concrete structures.
Other defects based on the exterior features of your house that are safe for you to inspect and you can do research to find out about.
Check The Interior
Windows and doors on the wood trim or drywall, especially at window sills or the base of exterior doors.
Wall and ceiling surfaces drywall cracks, indicating soils movement or structural framing problems.
Doors or windows sticking shut may mean improper installation.
Bathroom or kitchen doors, with unpainted tops or where moisture may cause wood expansion and door sticking.
Floor tile cracks; uneven wood or widening floor board cracks; carpeting or other flooring at window bases, doors, or showers have water stains; and discolored or curling linoleum; all may result from water infiltration through foundation cracks.
Water stains under kitchen, bathroom, laundry, or basement utility room sinks.
Initial check of heat and air conditioning in rooms to make sure they start and stop.
Check electrical plugs and switches.
This isn't an exhaustive list but it's where you start and then get inspectors to do the rest. Whatever issues you see, even if you're unsure it's major, talk to your builder about them and have them fixed.
You'll do this again within the first few months after you move in to make sure everything, including appliances and fixtures, operates properly. Your Builder's or Home Warranty may give you other rights.
Get The Right Inspections
If you're financing a custom home, your lender will likely require an inspection prior to every stage, or "draw," when they release money to the builder.
Those inspections start with the environmental assessment. Then, from pouring the foundation to pre-closing, you'll get others. Research or ask your real estate agent about those you need for your area.
In a development, you can choose to order a standard home inspection, but your lender won't require it. Make sure that you understand the terms of your warranty before signing your purchase agreement in case the house has any defects.
You can choose to commission mold, pest, termite, radon, septic tank, septic/leach field, well, and other inspections, depending on your property location.
Request a final walk-through before closing, preferably with your real estate agent after inspections to make sure everything found during inspections got fixed. Also, schedule your one-year home warranty inspection.
Know the Laws In The State Where You Build
Work with your real estate agent to learn these, including building codes, permit requirements, use and occupancy rules, pet breed/domestic animal and environmental regulations.
Know state consumer protection laws, because they're important for reporting construction defects.
Carefully read the fine print on and check all documents you get at closing against those laws. Ask your real estate agent or closing attorney if there are other things you should know.
What Are Today's Mortgage Rates?
Current mortgage rates depend on whether you choose to buy a tract or semi-custom home from a developer, rebuild a new home on an old foundation, or have a contractor build a custom house on a lot your purchase or already own.
Check with several lenders in addition to a builder's "preferred" lender to get the bst interest rates.