Drop In Pending Home Sales Fueled By Low Inventories, Rising Prices
Home buyers can't seem to catch a break. The National Association of Realtors' Pending Home Sales Index fell 0.8 percent to 108.5 in May from a downwardly-revised 109.4 in April.
The index provides a glimpse into home-buying activity based on contract signings.
This is the third straight month in which new escrows for residential purchases dropped – a bad trend if you're trying to buy right now.
Home Sales Down From Previous Year; That's Two In A Row
The month-over-month decline is not the only bad news for housing. Annual numbers don't look good either.
The NAR reported that pending home sales also fell for the second year in a row.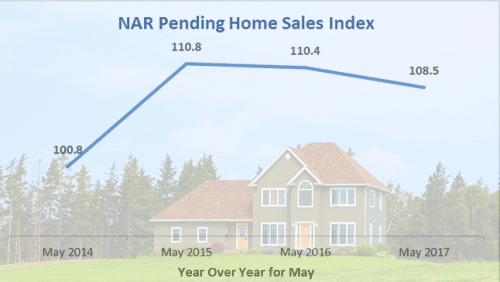 What's Slowing Home Sales Down?
If sales were slow due to the lack of demand, it would be a buyer's market, good for those trying to break into homeownership. But that's not the case.
"Buyer interest is solid, but there's just not enough supply to satisfy demand," said Lawrence Yun, NAR's chief economist, in a news release. "Prospective buyers are being sidelined by both limited choices and home prices that are climbing too fast."
In many housing markets, there's a dearth of affordable homes, and this makes it harder for renters to buy. Yun pointed to the year-over-year May sales of homes in the lower price ranges.
Home sales for properties under $100,000 last month fell 7.2 percent from May 2016.
Economic Uncertainty Keeps Renters Renting
The NAR's quarterly Housing Opportunities and Market Experience (HOME) survey concluded that renters, adults under age 34, and those in urban areas are less confident that now is a good time to buy a home.
"The lack of listings in the affordable price range are creating lopsided conditions in many areas where investors and repeat buyers with larger down payments are making up a bulk of the sales activity," Yun said.
"Meanwhile, many prospective first-time buyers can't catch a break. Prices are going up and there's intense competition for the homes they're financially able to purchase."
The NAR predicts existing-home sales to increase by 3.2 percent to 5.63 million this year. However, the national median existing-home sales price is also expected to climb five percent.
It's true that sellers hold the cards right now, but they'll have to combat higher prices and intense competition if they move up (or downsize).
Without more homes on the market, prices will rise and continue to squeeze buyers.
Affordable Rentals Dwindling, Too
The housing market creates a challenge for renters attempting to buy. That said, renters are being squeezed in much of the country, where affordable units are few and far between.
Nationally, 43.3 million households rent. That's 37 percent of all U.S. households — a 50-year high, according to the State of the Nation's Housing 2017 report from Harvard University's Joint Center on Housing Studies.
A shortage of affordable rentals is another issue, according to Harvard. The number of units renting for less than $800 fell by two percent from 2005 to 2015. Meanwhile, units renting for $2,000 or more per month increased 97 percent. This reflects a growing shift to higher-end rentals.
Home Affordability: 50 Cities Where You Can Buy A Home Now
The financial strain of paying higher rents makes it harder for many households to save money for even the lowest mortgage down payment options.
Buying can pay off in the long run for those who can save up enough money for a down payment. But buying depends on many factors.
How To Break Out Of Renting
Would-be buyers facing low inventories, high rents and difficulty saving a down payment need to create a plan.
Check your local area AMI and see if you qualify for low-down-payment options like HomeReady, with three percent down.
Look into down payment assistance programs for your area. Many allow borrowers with moderate incomes.
While putting your down payment together, check your credit report at annualcreditreport.com, and use your lead time to clean up any errors or problems.
See how much home you can afford with a payment that's equal or nearly equal to your monthly rent. This way, you are less likely to over-extend yourself.
Get pre-approved for your mortgage, so you can close quickly and compete with other buyers.
Today's rates and prices are on the move, so try to create and execute your plan ASAP.
What Are Today's Mortgage Rates?
Today's mortgage rates, while inching up, are still very attractive. Qualifying now to buy a home is probably easier than it will be as the months go by.
Check with several mortgage lenders, compare mortgage rates, and work with someone you trust.