Home Prices And Demand Are Through The Roof
It's no secret: home prices are up, housing demand is high, and stock is low — a classic seller's market. That makes it a tough climate for many buyers searching for a home they can afford.
But finding your perfect property, securing the right financing, and outdoing rival buyers is more than possible. It's downright likely if you're well prepared.
Buying A Home In A Seller's Market
By better understanding the market and trying proven strategies, you stand a better chance of landing that home at a price you can handle.
What The Research Found
New data from Redfin show that home prices and housing demand are at or near all-time highs. The Redfin Housing Demand Index rose 11.3 percent in April to a seasonally adjusted record level of 136 in May. (A score of 100 represents the historical average.)
That 136 score marks the highest level of homebuyer demand scored since Redfin started tracking these numbers four-and-a-half years ago.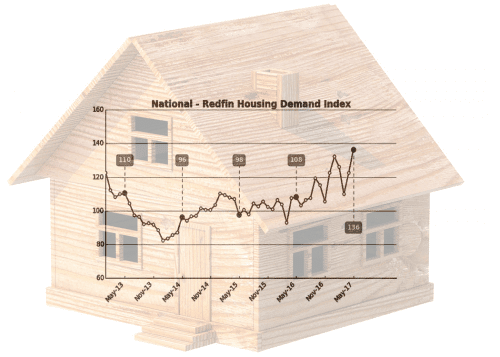 Supply hit a new low, as well. In May, there was only a 2.7-month inventory of homes. That's the smallest number Redfin has tallied in seven years of tracking. A six-month supply suggests a healthy market balanced between sellers and buyers.
What The Numbers Mean To You
Rachel Musiker, spokesperson for Seattle-based Redfin, says the key findings of this data are clear. We're in a record-setting market where buyers are claiming homes as fast as sellers can list them.
"We've never seen a more competitive and fast-moving market," she says. "Homes are selling faster than they ever have before. Plus, prices are growing at a continued strong rate. We've seen that more than a quarter of homes are selling above their list prices."
How Long Does It Take To Get Pre-approved For A Mortgage?
Housing demand has increased for several reasons. First, the overall economy has improved. Employment rates remain robust, and incomes are up.
Low mortgage interest rates persist. The Federal Reserve may raise rates again soon, so many buyers are trying to lock in and buy now to beat the next rate increase.
What's more, the supply hitting the market mostly consists of existing resale homes. Builders are not producing enough affordable new construction homes to satisfy demand, says Musiker.
That means buyers are reliant on sellers listing their homes. But many would-be sellers are wary of paying top dollar for the next home they'll live in. Hence, they hesitate to list their properties.
What To Expect Ahead
Musiker says these trends will likely continue for the foreseeable future.
"The housing market got off to a slightly slower start than normal this year. Perhaps this was due to post-election factors.
Maybe people were waiting to see how the Trump Administration settled in. As a result, we expect to see home sales and prices peak a bit later than they normally do —maybe by August," she adds.
How To Rush Your Mortgage To The Closing Table
For the market to shift in favor of sellers, two things need to happen.
"More people need to put their homes up for sale. And builders need to construct more affordable homes in greater numbers," says Musiker.
Meantime, despite the fact that sellers seem to have the upper hand today, buyers shouldn't abandon their dreams of owning.
Getting Your Foot In The Door
To locate the ideal home, start your search early. Use the right resources. And move swiftly when opportunity knocks.
"Use sites like a local brokerage website or Redfin that use MLS data. They can alert you as soon as a home hits the market," she says. "Also, partner with an experienced real estate agent who knows your local market."
Once you find a home you like, aim to impress the seller to make your offer more appealing.
Getting Sellers To Pay Your Closing Costs
"Work with your agent to learn information that could make you a more preferred buyer candidate," says Musiker. "Perhaps the seller needs extra time to close or move out. You could offer to move in later to make that happen.
Or maybe you noticed artwork in their home by an artist you admire or collect. That could be a point of personal connection that gets the seller to pay more attention to you."
Getting pre-qualified—or, even better, pre-approved—for a mortgage and furnishing proof of this to the buyer is smart, too.
Money Matters
To ensure you get the funding you need, it's important to shop around for a mortgage.
"Some lenders are even able to underwrite the loan before you make an offer so that you can drop your financing contingency on the contract. That can make your offer much more attractive," Musiker says.
How To Avoid making A Contingent Offer On A Home
If you're having trouble securing a loan, look into lower-cost properties like fixer-uppers and smaller entry-level homes.
"Scour for homes that have been on the market for longer than 30 days. These sellers may be more willing to work with your budget," she notes.
Have A Plan B Ready
Lastly, keep in mind that there's no shame in waiting things out if your offer gets refused, a bidding war gets out of reach, or you can't find a home that's kind to your wallet.
Turned Down For A Mortgage? Here's What To Do Next
"Sit things out for a while. Save more money for that down payment you'll need later," says Musiker. "Don't get discouraged. A lot of people have to make at least a few offers before they're successful. Use these as learning opportunities."
What Are Today's Mortgage Rates?
Today's mortgage rates are still on your side. yes, they have bumped up and down, and are trending higher, but still very attractive. And most experts predict rising rates and housing prices in the next few years.
So if you're considering homeownership today, sooner is probably better than later.