The Need For Speed When Making An Offer
How to buy a house when the competition is crazy? Move crazy-fast yourself.
One way to speed up this process is to make a sight-unseen bid. That means making an offer without physically visiting the property. Moving fast like this can prevent someone else from buying the property first. It's also helpful if you have a busy schedule or are far away from the house for sale.
However, making a sight-unseen offer can be risky. That's why it's important to weigh the pros and cons and think carefully about when and how to bid. But also be ready to act quickly after you've made an informed decision.
New Data On Sight-Unseen Offers
Sight-unseen bidding is more popular than you may think. Brand new research from Redfin shows that one out of three people who purchased a home in the past year made an offer without first seeing the home in person. That's up from 19 percent measured a year ago and 21 percent two years ago.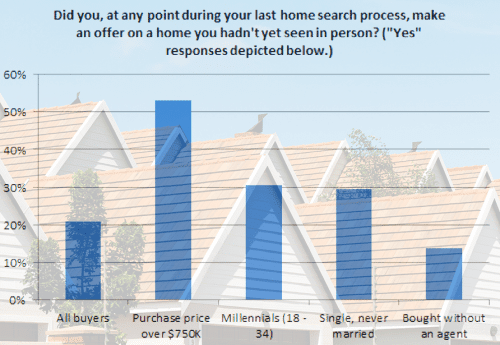 The Redfin report suggests this trend is occurring because of the fast-moving and competitive real estate market. An average home sold in May went under contact in merely 37 days. That's a week swifter than properties sold a year earlier and the speediest rate Redfin has ever recorded.
Surprising Strategies To Beat An All-Cash Offer
As a group, Millennials made more sight-unseen bids (41 percent) than Gen Xers (30 percent) and baby boomers (12 percent).
"Millennials are already starting to set trends in the real estate industry," Redfin chief economist Nela Richardson said in the report. "They are three times more likely than baby boomers to make an offer sight-unseen, and they're more likely than older buyers and sellers to negotiate commission savings."
How To Buy A House Using Technology
Mark Lee Levine, professor at the Burns School of Real Estate and Construction Management, University of Denver, says these Redfin results mesh with what he's seen in the housing market lately.
"With the active market, more potential buyers are making offers without actually visiting the subject property for sale," he says.
"New School" House Hunting: Buy A House Online
But this doesn't mean they have not seen the property at all.
"They likely have viewed it through a virtual tour, pictures, video clip or otherwise," says Levine. "The younger generation is much more comfortable with technology as a way to view the property remotely in lieu of a personal visit."
Adam Gower, real estate professor at the Orfalea College of Business at California Polytechnic State University, San Luis Obispo, is a fan of sight-unseen offers.
"Today, there's excellent photographic, 3-D and video presentations of homes and access to neighborhood data like never before. Hence, there is sufficient information available to buyers to give a very detailed view of a home in comparison with others," says Gower.
"The amount of information available for any given property — from interior and exterior pictures to school scores to crime rates — is readily available on your cell phone."
Pros And Cons
They say the early bird catches the worm. Likewise, making a sight-unseen offer can give you a leg up on rival buyers.
"When you make an offer, if it is accepted you effectively now control that property by retaining exclusive rights to buy the home during an agreed contingency period," Gower says. "During this period, none of your earnest money deposit is at risk. And the seller cannot sell to anyone else."
The drawback of making a sight-unseen bid is no opportunity to "kick the tires." In other words, you will be making an important decision without having first toured the property and surrounding neighborhood in person. Seeing these up close may reveal small details that could improve or decrease your faith in the purchase.
How To Deal With Tough Competition When Buying A House
"But you can always do that once you are in escrow and have control over the property," says Gower.
Another possible minus: the seller could doubt your integrity.
"You have a better chance of having an offer accepted if the seller knows you have seen the real estate in person. Thus, if it's possible to visit the property prior to making your offer, that would be best," says Levine.
"But I would not hold up an offer for days pending when you can go see it. If it looks good on the video and pictures, I would make the offer."
Levine adds that you can insert reasonable conditions in your offer to protect your interests. These can include the offer being contingent on approved financing, inspection by a licensed inspector to confirm the condition of the home, title work, etc.
For Best Results With Bids
To improve your chances, Gower and Levine suggest these tips when it comes to making an offer:
Be decisive and prepared to act fast. Get preapproved for a mortgage loan with a lender before offering your bid. And "make an offer with a short contingency period, which should resonate with a savvy seller," Gower says.
Avoid the bidding war blues. "When competing with other buyers, don't go in with an 'auction' mentality or you could end up paying more than you should," says Levine. Know the maximum price you're willing to pay ahead of time. And walk away, if necessary.
Draft a legally protective contract with your agent and/or attorney. You should be allowed, for example, to back out if the inspection reveals a major problem or the appraisal comes in far below the asking price.
Don't buy into a bubble market where home values could drop fast down the road. "If most of the other bidders in your market are investors, you are probably buying into a bubble and should back off," says Gower.
Have a backup plan. Your offer may not be accepted or the deal may fall through. That's why it may be smart to keep hunting for other homes for sale until you get to the closing stage.
Hot markets make buying a home more stressful if you don't normally make decisions on the fly. But with advance preparation, you can do this more comfortably.
What Are Today's Mortgage Rates?
Today's mortgage rates are still low, but have been slowly trending higher. Combine that with increasing home prices, and you're looking at a limited window for grabbing a bargain.